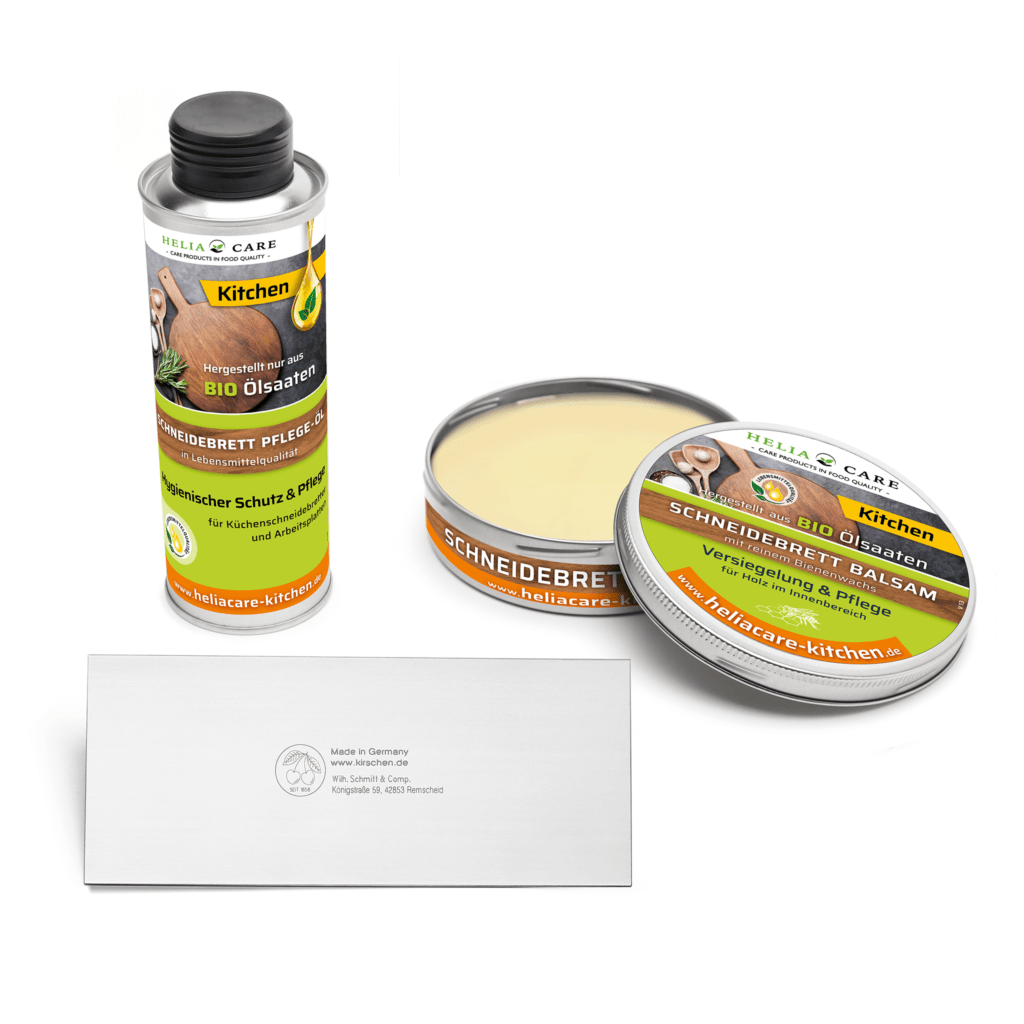 A wooden cutting board is a promise of quality. True connoisseurs don't want to miss the raw, yet gentle feel of a wooden cutting board, but they also know: Without adequate care, meat and vegetable juices penetrate the board and it starts to smell unpleasant. At the latest when health and hygienic concerns arise, the whole joy is over.
Wood is a natural product and needs to be looked after. Very good care not only disappears concerns, the cutting board even shines in an unprecedented shine.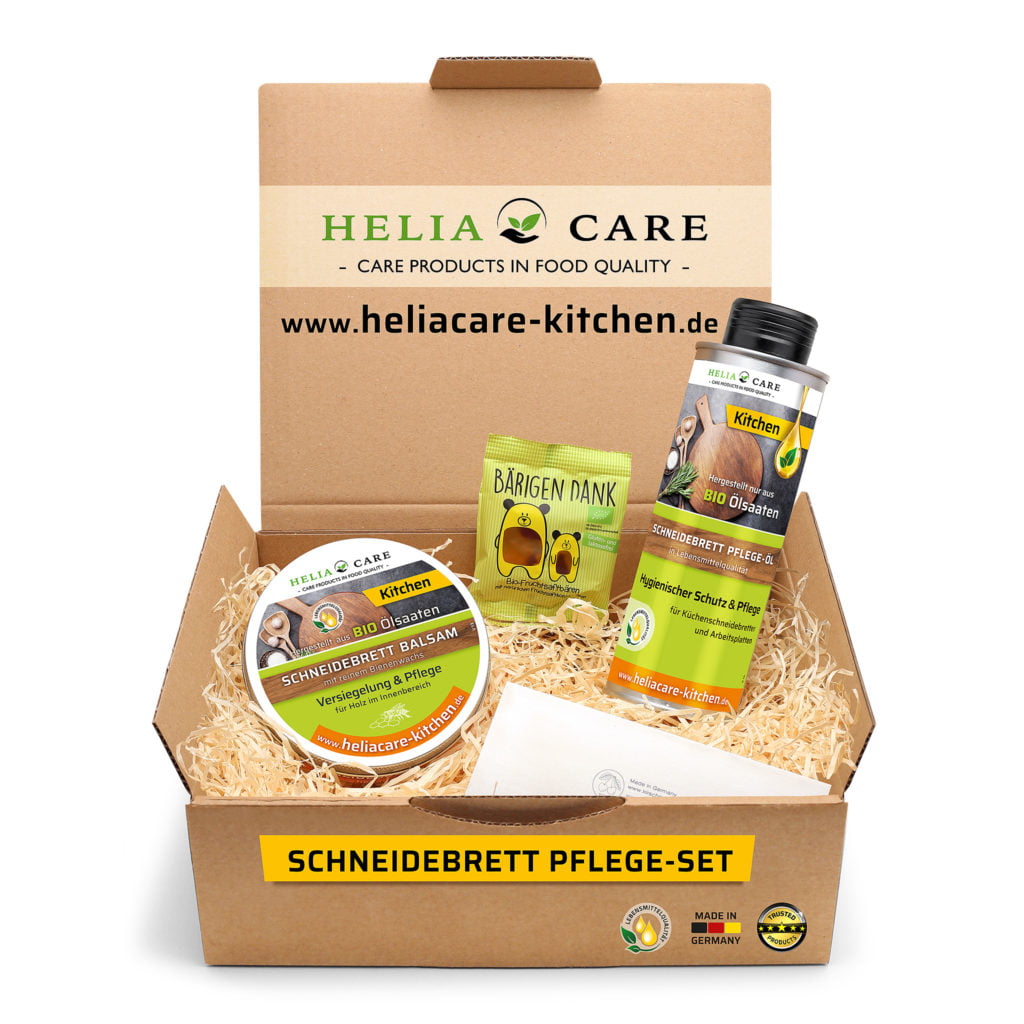 ---
Suitable for all wooden cutting boards
---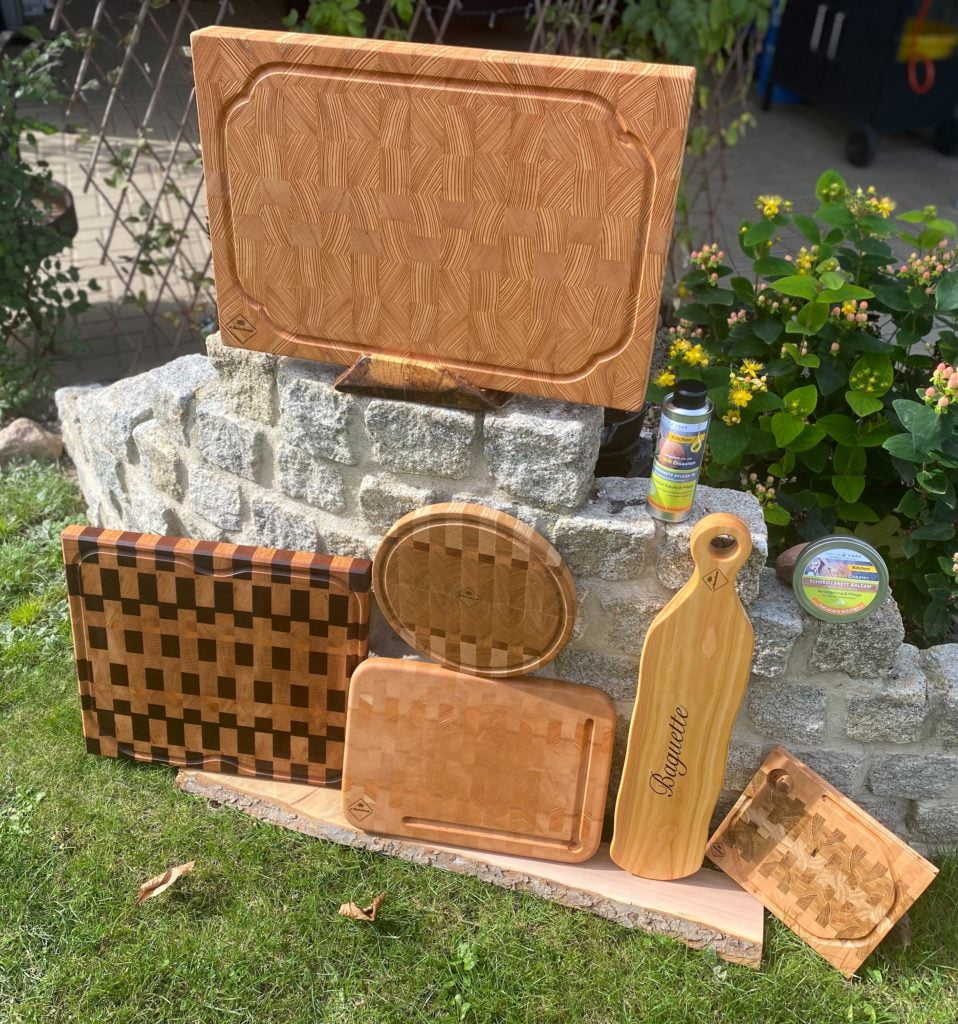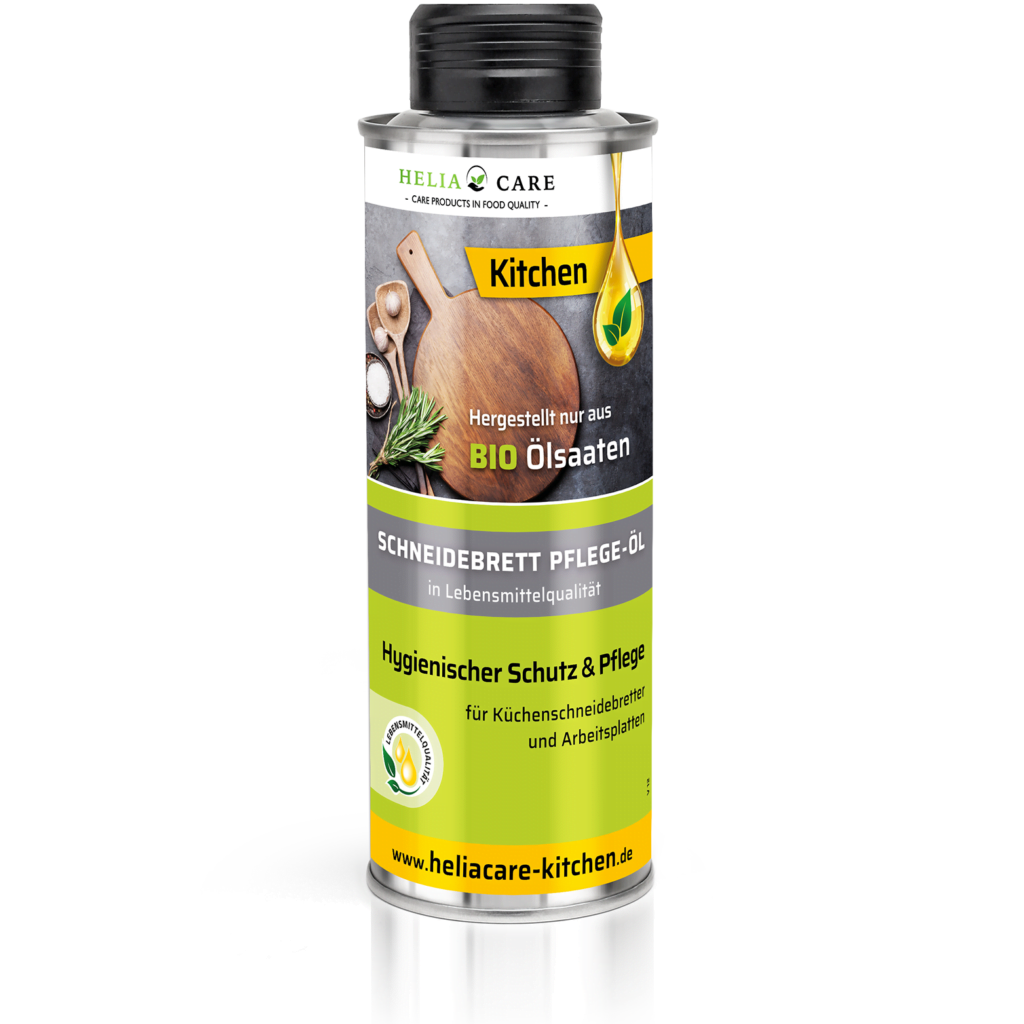 Hygienic protection against food juices
The HeliaCARE cutting board oil is only made from cold-pressed and certified organic oil seeds (seeds) from regional cultivation in Germany. Food safe and of course in food quality, so that this care oil can come into contact with food absolutely harmless. No chemicals, no solvents, no smells, no additives - pure nature.
The oil contains natural germ and fungus-inhibiting properties, which significantly increase hygiene. The oil penetrates deeply and fills / seals the pores so that no other liquids can penetrate the wood. The wood grain is very nicely emphasized and cared for.
---
Beeswax for velvety long-term protection
That HeliaCARE cutting board wood balm is a paste that has a very thin hygienic oil bound in pure beeswax. If the paste is applied thinly and rubbed in, the oil can loosen from the paste in a few minutes and penetrate deep into the wood. A part of the wax is taken with it. The pores are sealed from the inside in the wood with a wax plug.
The rest of the beeswax stays on the surface and creates a very beautiful, velvety wooden surface, lets water roll off easily and is also healthy. Of course, absolutely odorless.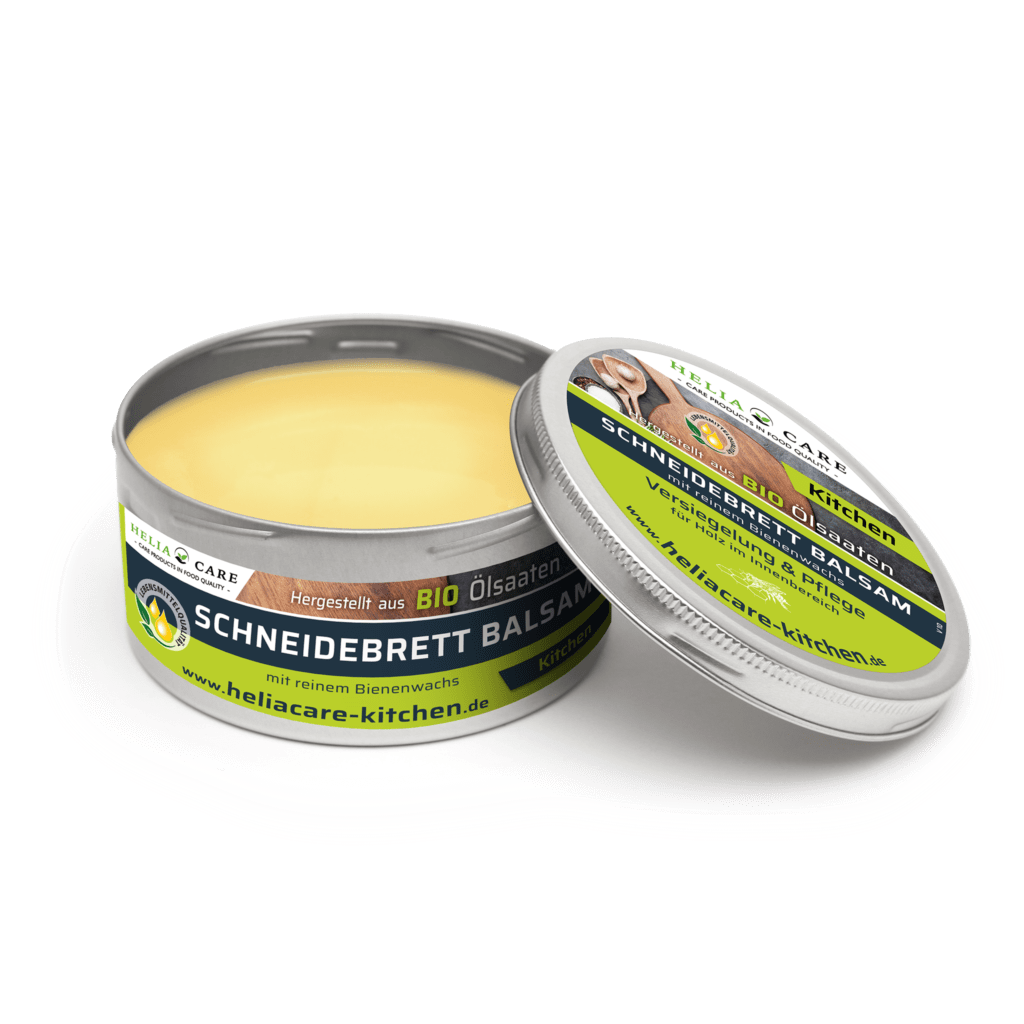 ---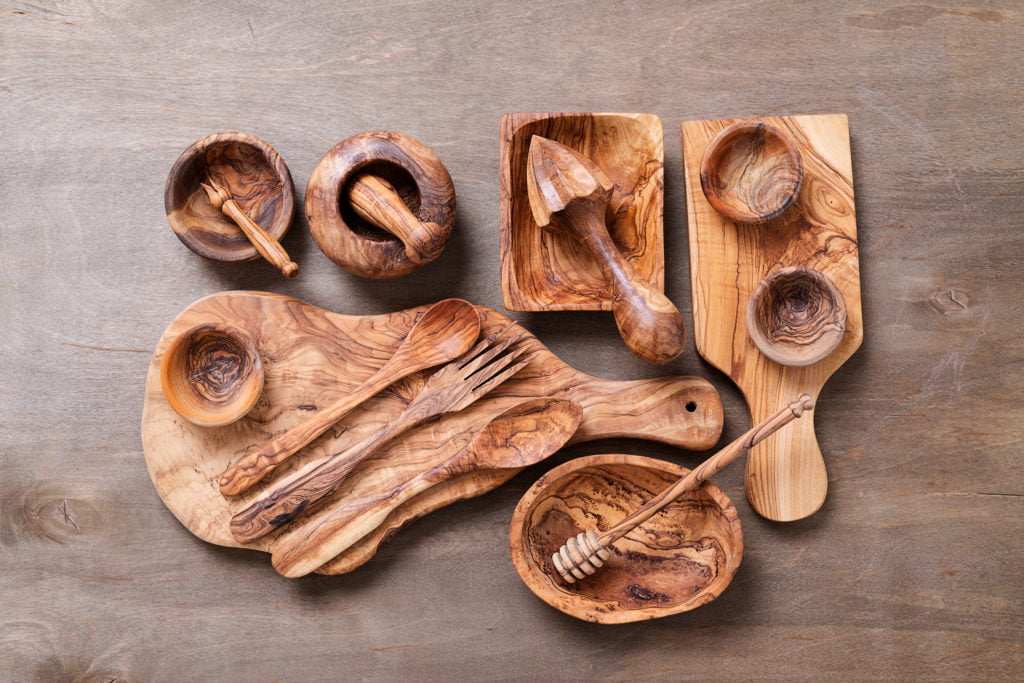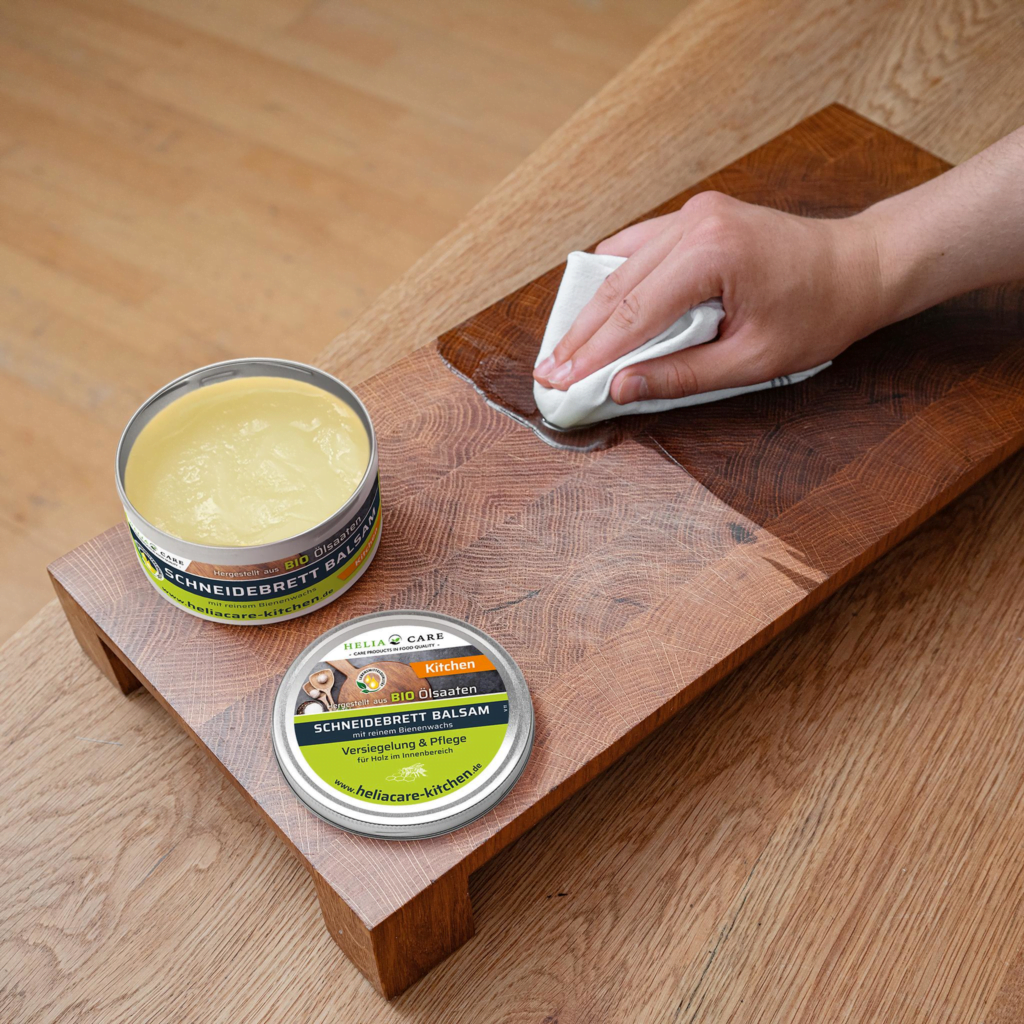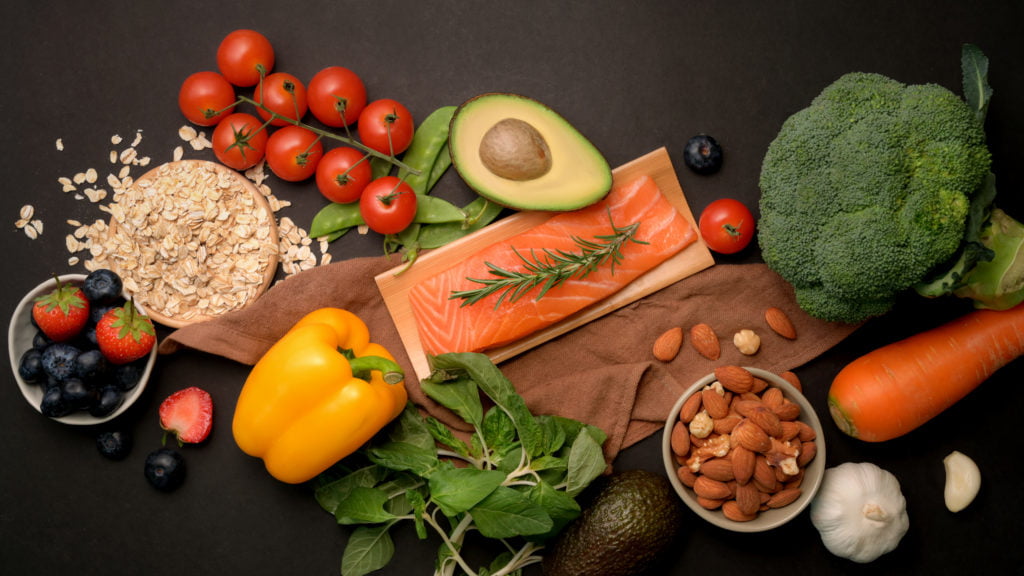 ---
And professionals use the scraper
We are pleased to be able to include a particularly good scraper (brand: "Cherries" or comparable) in the care set. This professional tool can be used to smooth the surface of the cutting board by pulling it off. A particularly good scraper is characterized by a dead straight edge and a very stable material, so that the scraper can serve a lifetime. The premier class of scrapers can achieve very good results even with difficult grains without removing a lot of material. The following applies to HeliaCARE: Just the best for you. That is why we only include scrapers that meet our quality requirements to the highest degree.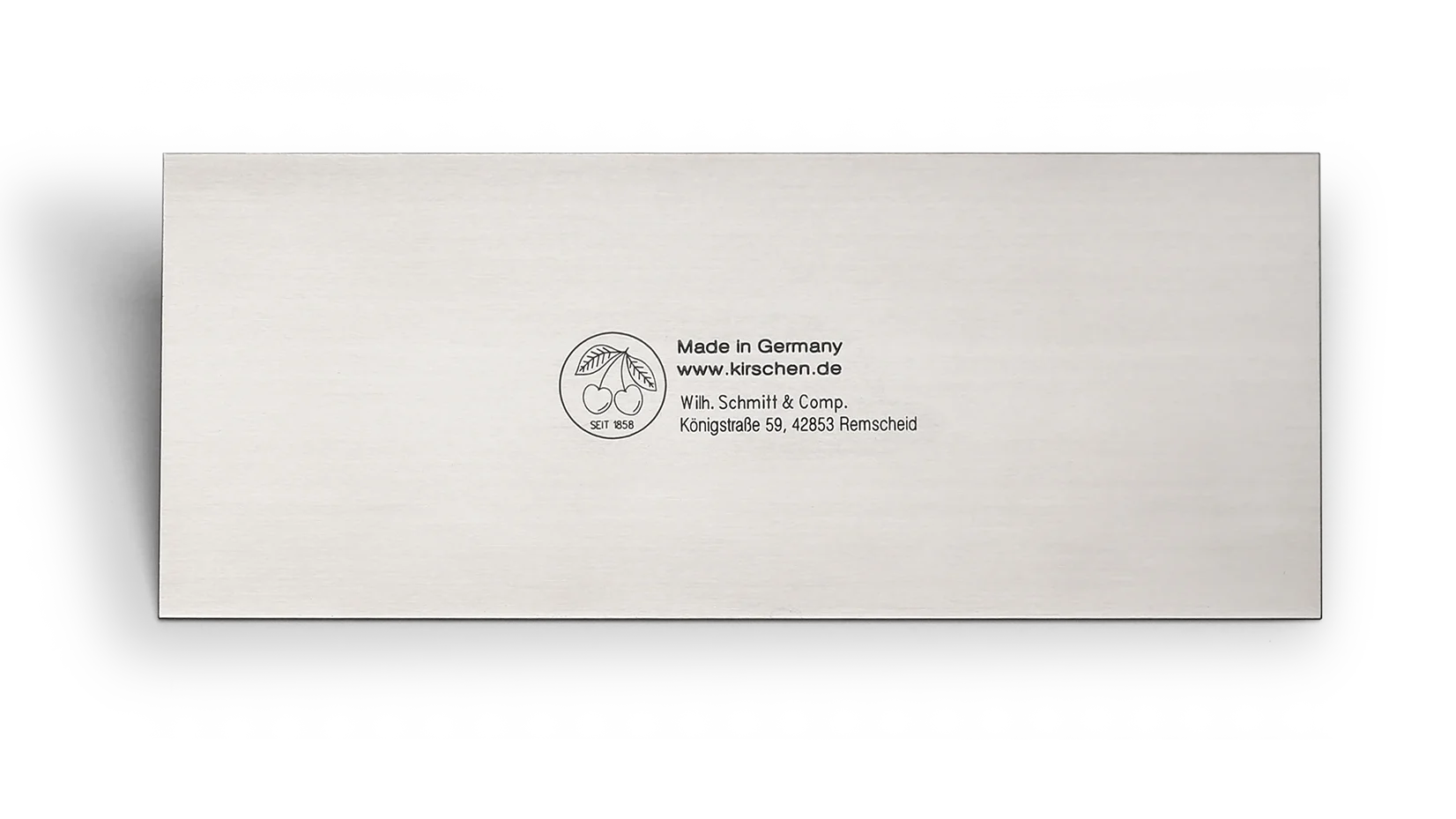 ---
The HeliaCARE promise
---
Without chemistry
All of our HeliaCARE products do not contain any chemicals. Through the targeted selection of raw materials and innovative and sustainable manufacturing processes, we can completely do without chemicals and additives.
---
Consistent
Sustainable production and regionality have been an important part of our products and supply chains for years. For us, fair trade also applies to domestic agriculture, which supplies us with the basic products.
---
100% quality of life
Food safe and above all in food quality means that you can bring our product into contact with food without hesitation, without unwanted substances getting into your food.
---
BIO
We only use BIO certified oil seeds (grains) and real beeswax for our cutting board wood balm. Our company is state certified for the processing of organic food!
---
Healthy living
By not using chemical or synthetic additives, our product can be classified as a food. You can apply the wood balm with your bare fingers and even let children help out under supervision. Neither vapors nor smells get into your house.
---
Simple & effective
HeliaCARE cutting board wood balm is easy to use and economical. The full effect is achieved after a few applications. If your board appears dry, simply repeat the application.
---