Cutting board care balm in food grade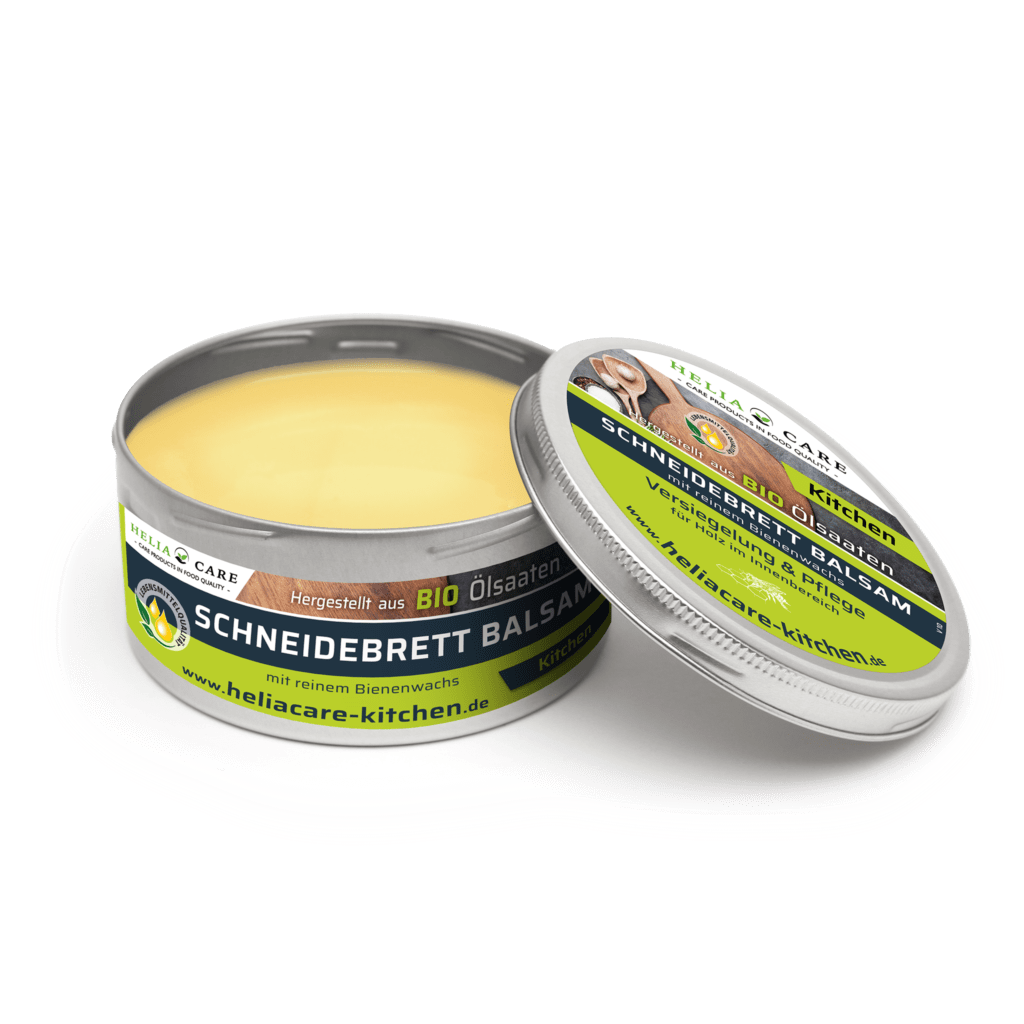 Those who like to cook don't want to do without a wooden cutting board. From simple "boards" to true carpenter's masterpieces, there is everything on cutting boards for the kitchen.

Wood is a natural product and needs to be cared for. The meat or poultry juice, leftovers from egg yolks or dairy products soak into the pores of the wooden board. This means that germs and bacteria can form that are not wanted. A neglected board is also not visually convincing.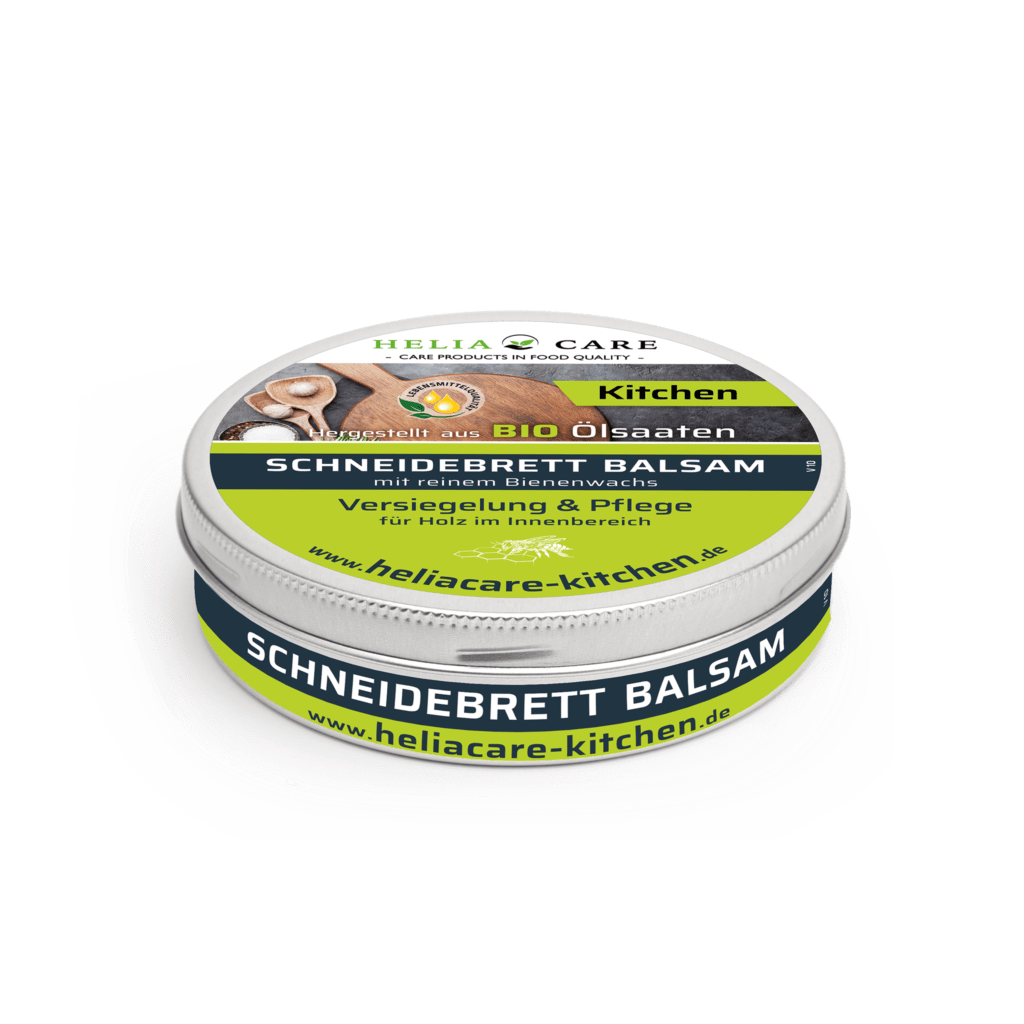 ---
How does it work?
HeliaCARE cutting board wood balm is a natural paste that has a very thin hygienic oil integrated in pure beeswax.
If the paste is applied thinly and rubbed in, the oil can loosen from the paste in a few minutes and penetrate deep into the wood. A part of the wax is taken with it. The pores are sealed from the inside in the wood with a wax plug. The rest of the beeswax stays on the surface and creates a very beautiful, velvety wooden surface, lets water roll off easily and is also healthy. Of course, absolutely odorless.
How to use it
Clean the surface. A scraper is very helpful for heavily soiled or scratched boards.
Let the board dry sufficiently and then treat it with HeliaCARE wood balm. Please use sparingly and rub in mainly in the direction of the grain with your bare fingers (tip for bargain hunters), a paper towel or a cotton cloth.
Let it soak in overnight and rub dry with paper towels the next day. Repeat application as necessary, usually weekly. Depending on how your board was pretreated, it can take up to 10 applications for the wood care product to take effect.
---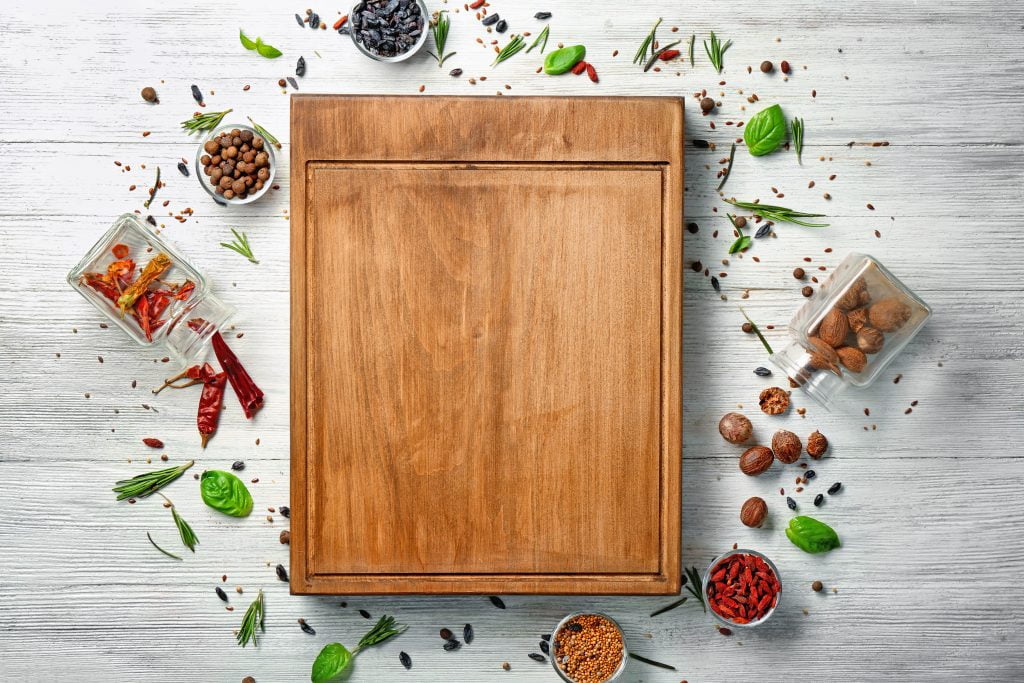 ---
---
Without chemistry
All of our HeliaCARE products do not contain any chemicals. Through the targeted selection of raw materials and innovative and sustainable manufacturing processes, we can completely do without chemicals and additives.
---
Consistent
Sustainable production and regionality have been an important part of our products and supply chains for years. For us, fair trade also applies to domestic agriculture, which supplies us with the basic products.
---
100% quality of life
Food safe and above all in food quality means that you can bring our product into contact with food without hesitation, without unwanted substances getting into your food.
---
BIO
We only use BIO certified oil seeds (grains) and real beeswax for our cutting board wood balm. Our company is state certified for the processing of organic food!
---
Healthy living
By not using chemical or synthetic additives, our product can be classified as a food. You can apply the wood balm with your bare fingers and even let children help out under supervision. Neither vapors nor smells get into your house.
---
Simple & effective
HeliaCARE cutting board wood balm is easy to use and economical. The full effect is achieved after a few applications. If your board appears dry, simply repeat the application.
---

Plastic container: The sustainable screw jar is made of a 100% recyclable, food-safe plastic, which can be completely recycled, comparable to glass or metal. The empty high-quality screw jar can be used in the household.
---
---
Video tip: Making a cutting board with HeliaCARE treatment
Not only the production of a cutting board is shown here, but also how to apply and rub in the HeliaCARE cutting board oil correctly. After the exposure time, the cutting board is treated with the HeliaCARE cutting board balm.

More information: