---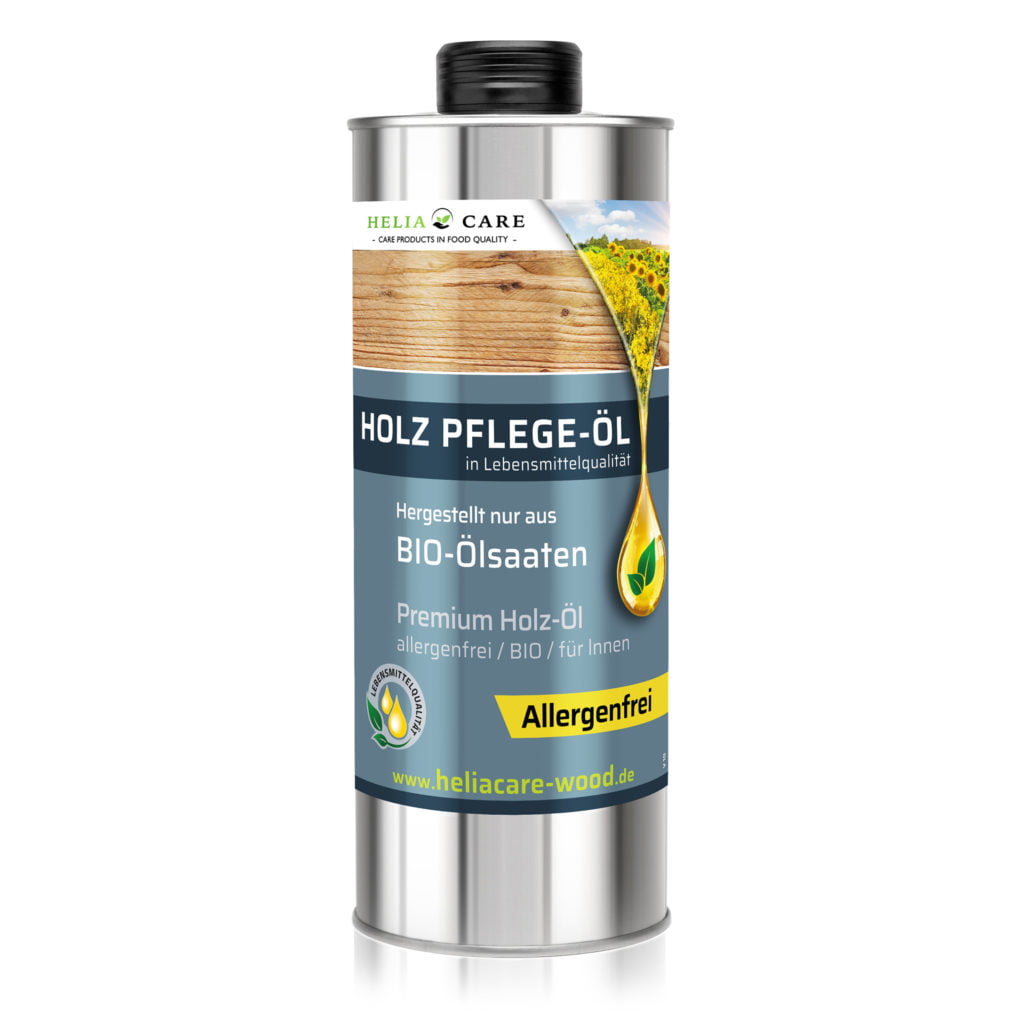 It is very difficult for people with particularly severe allergies to find care products on the market that do not contain synthetic or plant-based allergens. Especially with oils, paints and varnishes.
We at HeliaCARE are very nature-related and since our BIO wood protection products are guaranteed to be free of solvents and VOC (living room toxins), we have paid particular attention to allergens with this product.
Although we know that no plant-based allergens are used in our production, not even with the other oils, we unfortunately also know that sometimes small mixtures can occur at suppliers or forwarding agencies, which then cause so-called cross-contamination. In order to rule out this risk as well, our allergen-free premium wood oil is regularly examined in the laboratory for residues of incompatible plant substances and then released for you.
toddlers / babies
In addition to the adults, small children / babies who have not yet been determined to be allergic must also be taken into account. That is why we recommend this wood oil in any case for the production of children's toys and for use in public facilities such as kindergartens, schools, day care centers, children's homes... where people / children come together whose health sensitivity is unknown.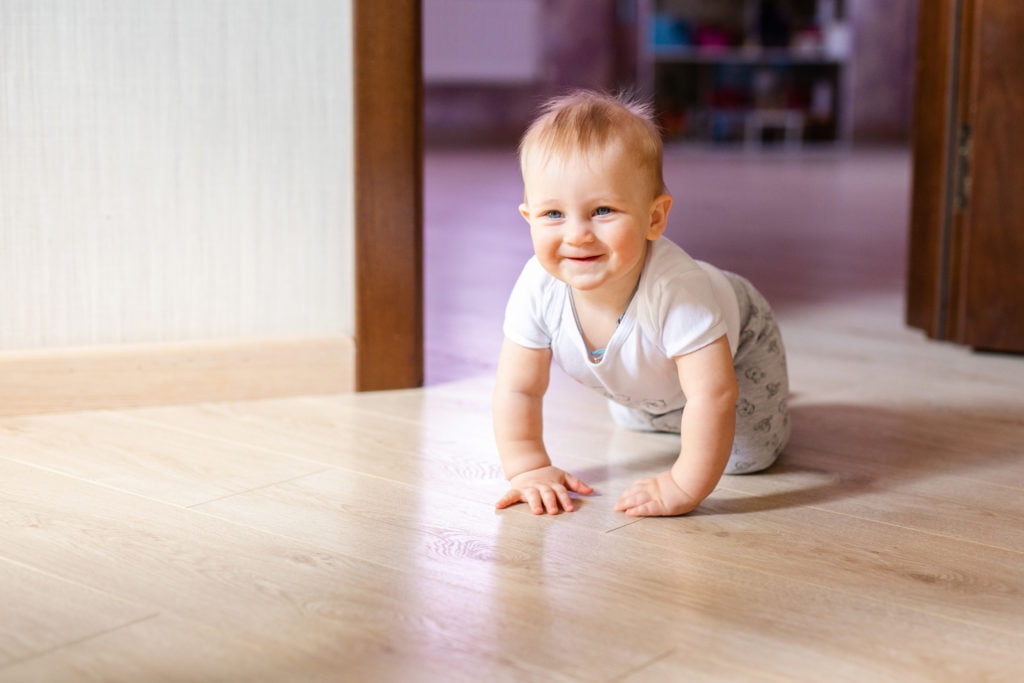 Allergen-free according to VO(EG) 1169/2011.
Laboratory tested and guaranteed free from the following allergens: "Gluten, hazelnut, almond, peanut, sesame, soy, mustard, milk protein, lysozyme, egg, crustaceans (crustaceans), lupine, celery, cashew, pistachio, walnut, macadamia, Brazil nuts, pecan nuts, fish, mollusks (mollusks), sulfur dioxide "
Origin from nature:
All raw materials come from organic farming in food quality. Only the best BIO-certified oilseeds (seeds) from cultivation qualities such as Demeter, BIOLAND, Naturland or at least EU BIO are processed and, if available, even from our own cultivation areas in Bavaria. Without synthetic additives. This product is made from 100% vegetable raw materials and can therefore contain no allergens such as solvents, drying agents, siccatives, formaldehyde, etc. So VOC free (see FAQ).

We not only guarantee food safety, but even food quality (you could theoretically even eat the contents)
In contrast to competitors on the market, who also offer organic products, we do not add any substances to make products cheaper or thinner. We, on the other hand, remove all substances from the cold-pressed oil that are a hindrance to wood treatment. In this way we prevent any odor formation, maintain a long shelf life and prevent the product from aging quickly and becoming "rancid", although it remains a natural food-grade oil.
PREMIUM wood oil "allergen-free" for all interior wood surfaces.
Special wood oil free of organic living space toxins (VOC) and plant allergens. Contains no synthetic additives and no solvents. Food safe and in food quality from HeliaCARE. Suitable for all indoor wood surfaces, floors and ceilings.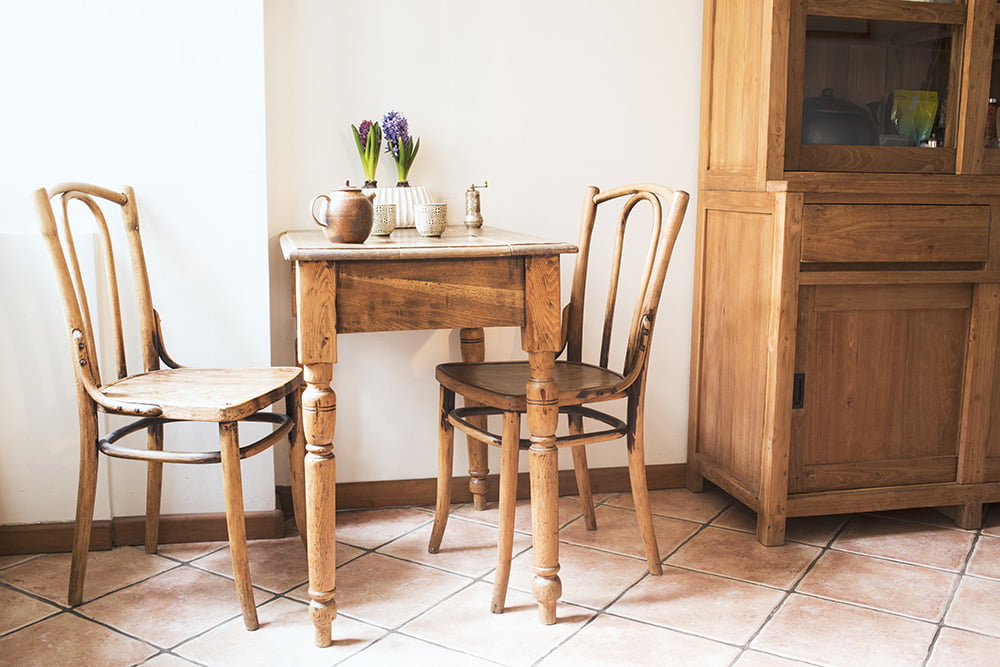 Properties / standards
Also suitable for DIY / home improvement / household. Cannot stick, gloves or respiratory protection not necessary when applying with a cloth, sponge or brush. The dried coating is harmless to humans, animals and plants, corresponds to the DIN EN 71-3 (safety of children's toys) and is food safe according to regulation (EC) No.: 1935/2004. Our company is ECO certified under Control number DE-BY-005-06609-HD.
Area of application:
HeliaCARE Premium "Allergy-free" is ideal for all indoor wood surfaces. Ceilings and wooden floors as well as bedroom furniture can also be optimally treated with it. Do not use on wooden surfaces that are exposed to standing water, such as wooden floors in the immediate entrance area or wooden surfaces outdoors. Garden furniture that is stored under a roof and is not directly exposed to the weather can be treated with this wood oil. Not suitable for outdoor patios or horizontal wooden surfaces.
Application:
Shake the product before use and apply with a cloth, sponge or brush. Gloves not necessary. Penetrates quickly and deeply into the wood and does not stick. Dries after approx. 2 hours. If the surface is still greasy after a few days, wipe up excess oil with kitchen paper (polish).
Instructions: www.heliacare.de/support/anleitung/uebersicht/
Kitchen wood cutting boards, countertops and dining table:
Our ALLERGEN-FREE is food-safe and of food quality, so contact with food is harmless, and use for the care of a wooden cutting board, kitchen worktop or even the dining table is harmless.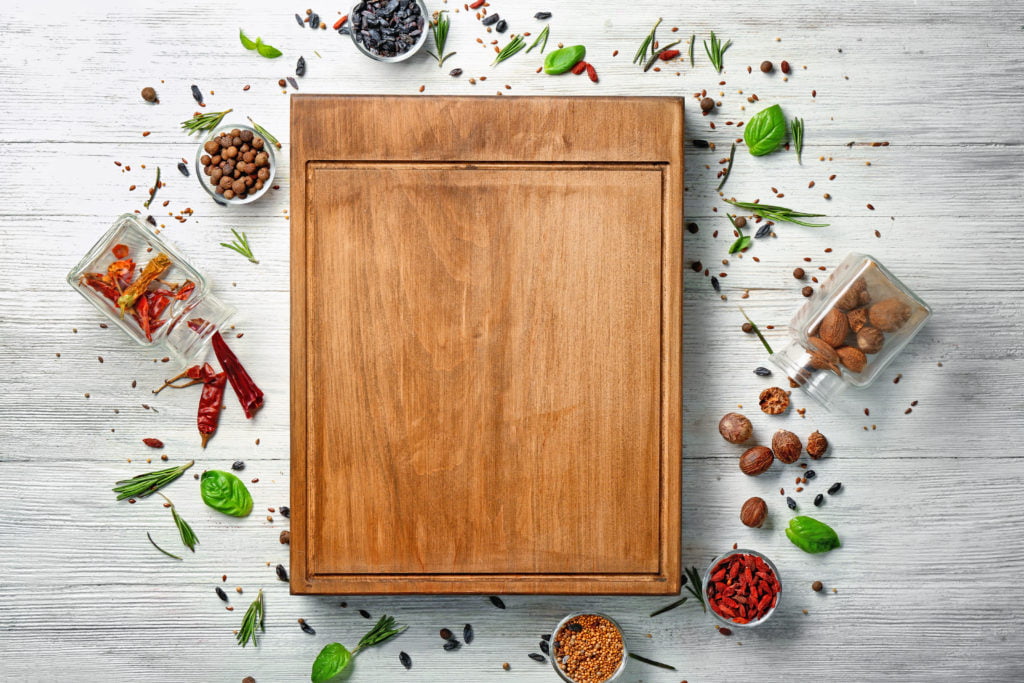 Furniture care:
The care / regeneration of furniture that has already been treated is possible without any problems. Please dose sparingly and try at one point to determine the dosage. Also suitable for antique furniture. Colorless and odorless! Greases the wood after a few days, absorb excess oil with kitchen paper over several days.
Care of real wood floors:
Pour approx. 25ml into the wiping water per wiping process. When using for the first time, immerse 1 x per square meter so that sufficient care products can be absorbed. Then always add to the cleaning water when cleaning the floor with a damp cloth (can be used at the same time as the cleaner). If the floor becomes slippery, reduce the dosage for the next application. What the cleaning agent leaches out of the floor in your mopping water is then supplied again by our oil. Healthy care products are particularly important in the living and sleeping areas.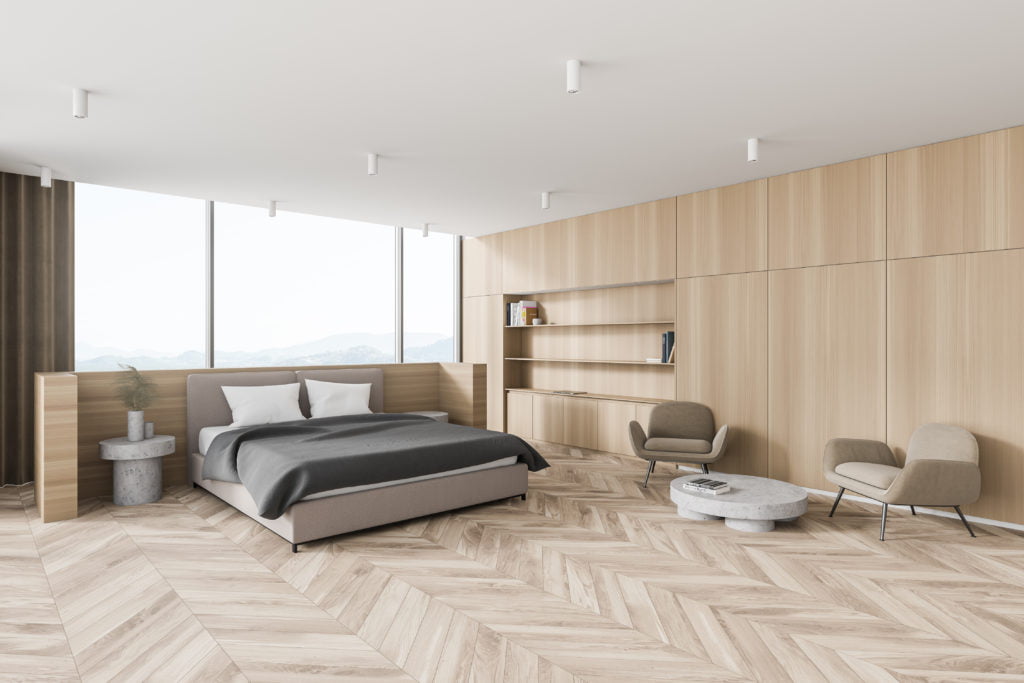 Contents:
Contains only organic certified oilseeds (= seeds) from organic farming. Manufactured in Germany in our own ECO-certified production under state controls. The content is food safe and food grade. Safe for contact with food, small children and pets
Consumption: 
1 liter of allergen-free wood oil is sufficient for an area of approx. 12 to 18 square meters, calculated for 2 applications for untreated wood surfaces. Significantly less consumption on already oiled surfaces.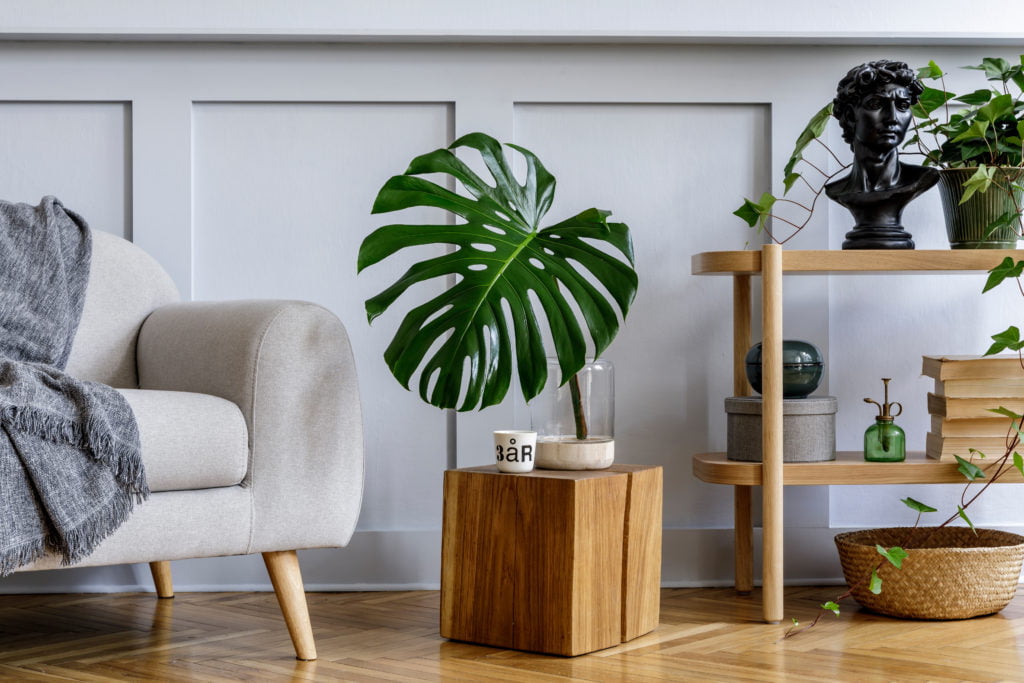 Support: 
support@heliacare.de (also ask for telephone advice there)
Decision table: Which oil is best for you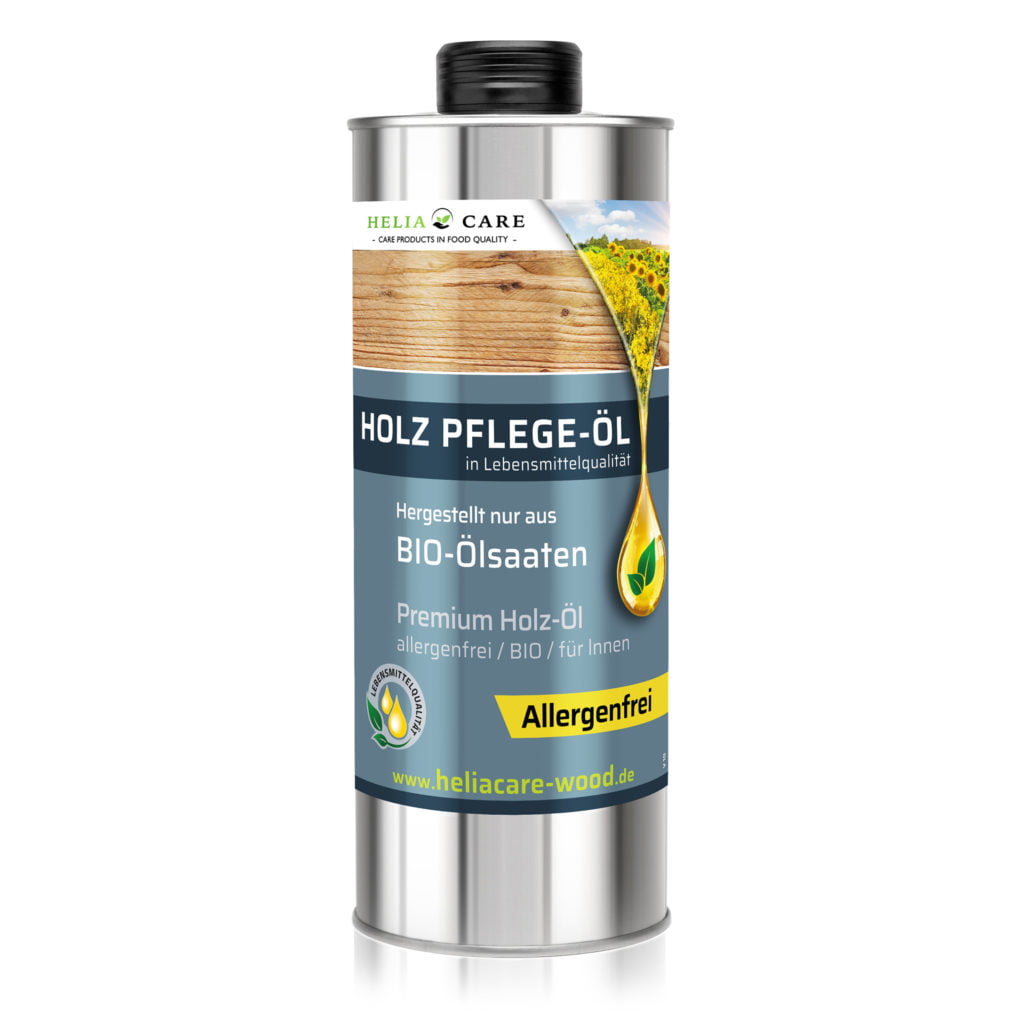 ---
Difference to our PREMIUM oils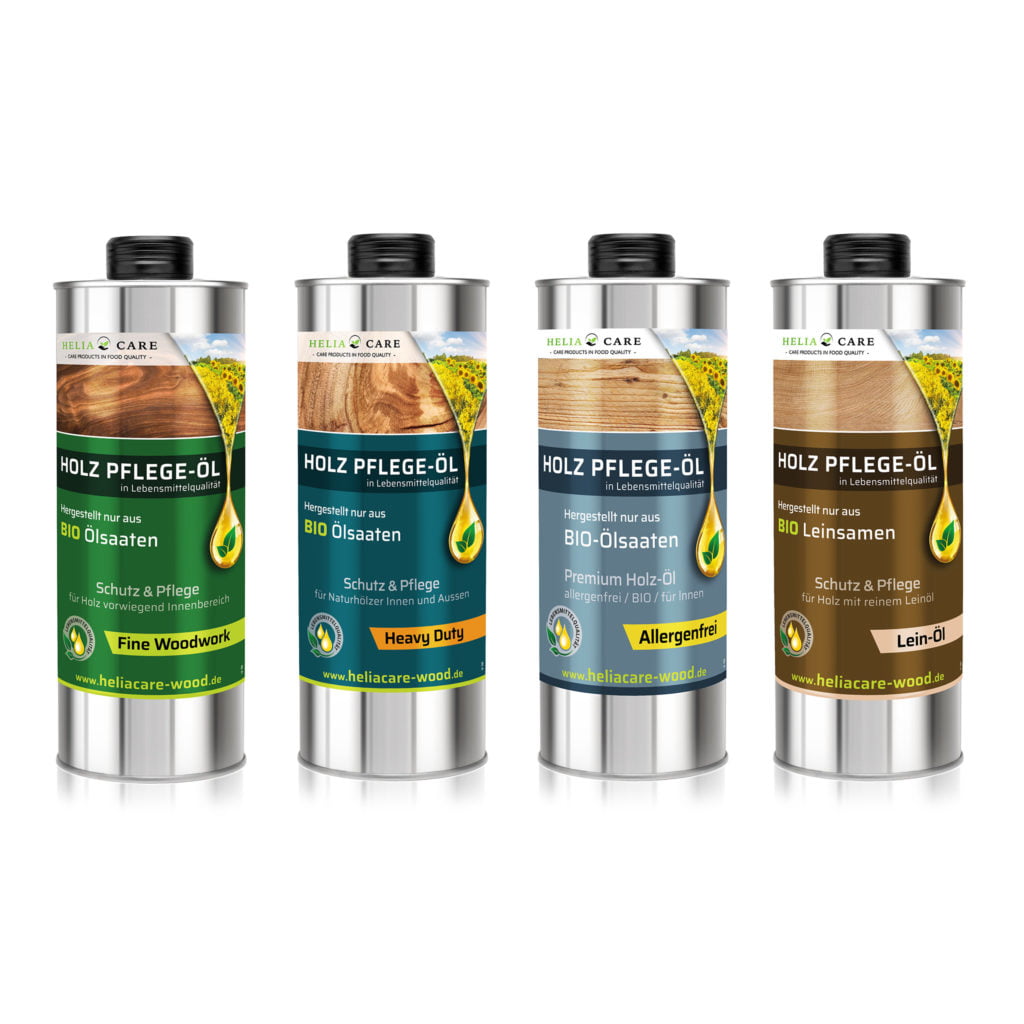 use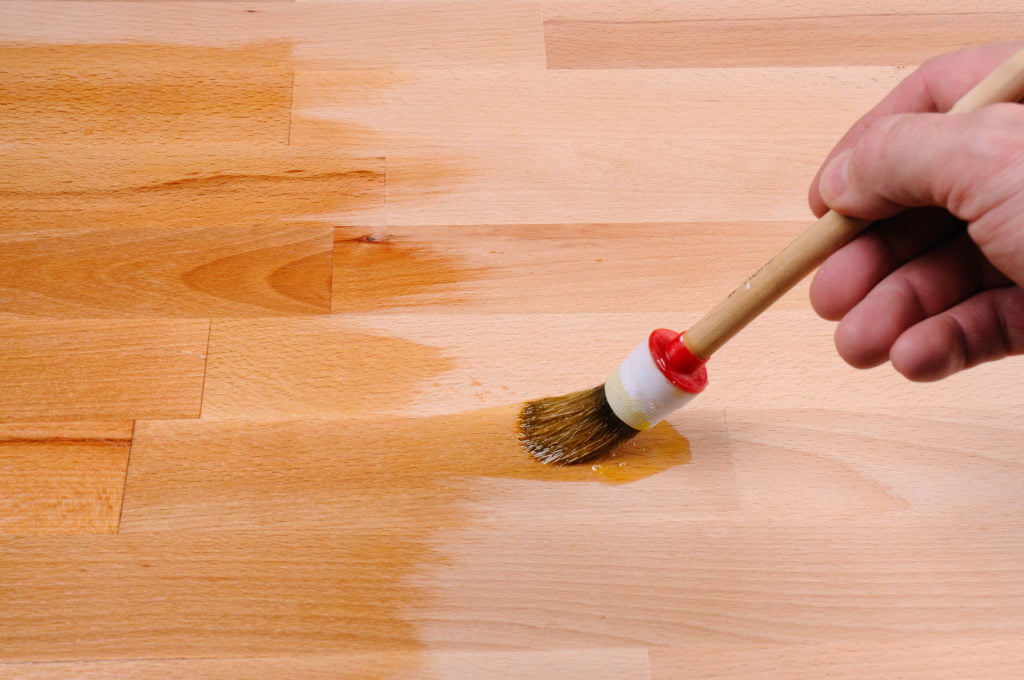 Storage:
Once opened, it has a shelf life of one year. Protect from UV radiation (sun) and heat - store in a dark place as cool as possible (closet).
---